To us Yoga Tutoring means tailored sessions that assist you in cultivating mind-body awareness to enjoy a greater quality of life.
Our one to one Yoga Tutoring sessions combine Massage, Observation, Range of Motion testing, Yoga poses and Myo-balls to help you achieve balance.
Massage and Yoga Combo (Initial session)
At your initial session Rachel will use her Massage skills to asses areas of tension and design postures and sequences specific to your tension patterns, needs and well-being.
The translation for yoga is to Yoke or Union, so with this we unite our mind and body to help us move through life with a sense of clarity, equanimity, freshness and ease. The practice of yoga is about your own experience, how you feel physically, physiologically and psychologically and having a regular practice can help improve mental and physical energy levels.
Pricing
Yoga & Massage Combo (60 mins) $99
Release & Relax (60 mins) $99
Yoga & Massage Combo (90 mins) $129
Release & Relax (90 mins) $129
Tensegrity Balance (60 mins) $99
Tensegrity Balance (90 mins) $129
Payments accepted
Cash, Eftpos, Visa, Mastercard, Bartercard. (Online transfer by arrangement only.)
Tensegrity Balance (Follow up uption 1)
Tensegrity; A concept coined by Buckminster Fuller in 1960 and used later in Stedman's Medical Dictionary for Health Professions and Nursing. The concept refers to 'tensional integrity', the forces of tension that is provided by muscles tendons, ligaments, and fascia, that support the compressed 'floating solid structures- bones and joints; Ideally in a balanced way to help stable, efficient bodily movements.
This session will further asses you posture and Range of Motion to identify areas of tension and restriction and Rachel may include the use of Myofascial balls to release specific areas of tension. Poses will be designed to strengthen weak or underfunctioning muscles or muscle groups, overall improving stability and movement of your joints.
All the while we will be working on cultivating a body mind awareness that will benefit you for a long time to come.
Release and Relax (Follow up option 2)
A slow paced (yin) yoga practice, that leads you through yoga postures sequenced individually for you. This practise will help stretch out tight muscles through long relaxed holds. Rachel may include the use of Myofascial balls to release specific areas of tension. This session will also include breathing techniques to bring calm centre connection to body and mindful meditation.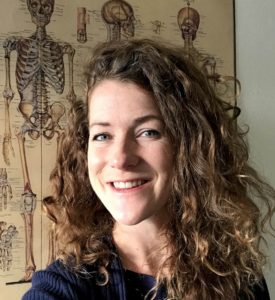 Rachel Bockett
RMT (student membership), BTEC Dip. Th. Mass. (Level 5, UK) '16. ITEC Cert. Holistic Mass. (UK) '16.
Yoga Alliance training: Cert. Multi Style Teacher Training 200hrs '14. Yoga Medicine: Myofascial Release with Yoga, '16. Yin Yoga '16.